On November 28, 2022, we held a naming ceremony for Sno. 687 14,300 DWT stainless steel chemical tanker, "CHEMICAL FRONTIER", which was ordered by T.A.C.K. SHIPPING, S.A.

The day of the naming ceremony was blessed with good weather, and many guests from home and abroad attended the ceremony.
We would like to express our sincere gratitude to all of you for making the naming ceremony a great success.

The vessel is the world's first small stainless steel chemical carrier equipped with a "marine SCR (Selective Catalytic Reduction) system" that complies with the IMO (International Maritime Organization) Tier III NOx (nitrogen oxides) regulation.
The SCR system is very difficult to install in the engine room of a small ship due to the size of the urea water tank and the equipment itself, so it took a lot of time and effort to realize the construction of this vessel with the cooperation of Makita Corporation (Takamatsu City, Japan), a main engine manufacturer.
Furthermore, the vessel is equipped with the latest electronically controlled engine (6S35ME-C9.7) to meet EEDI-Phase 3, which will start in 2025 and reduce CO2 emissions by 30% compared to the standard value. This is a very eco-friendly ship that complies with all current and expected emission regulations.
After departing Hachinohe port, the vessel will refuel and load in Ulsan, Korea, and call at ports in China, Singapore, Egypt, Israel, and Turkey. The vessel will be carrying several kinds of chemical petroleum products mainly to Europe.
We hope that "CHEMICAL FRONTIER" will be a "treasure ship" for everyone involved and that it will be a success on the world's oceans.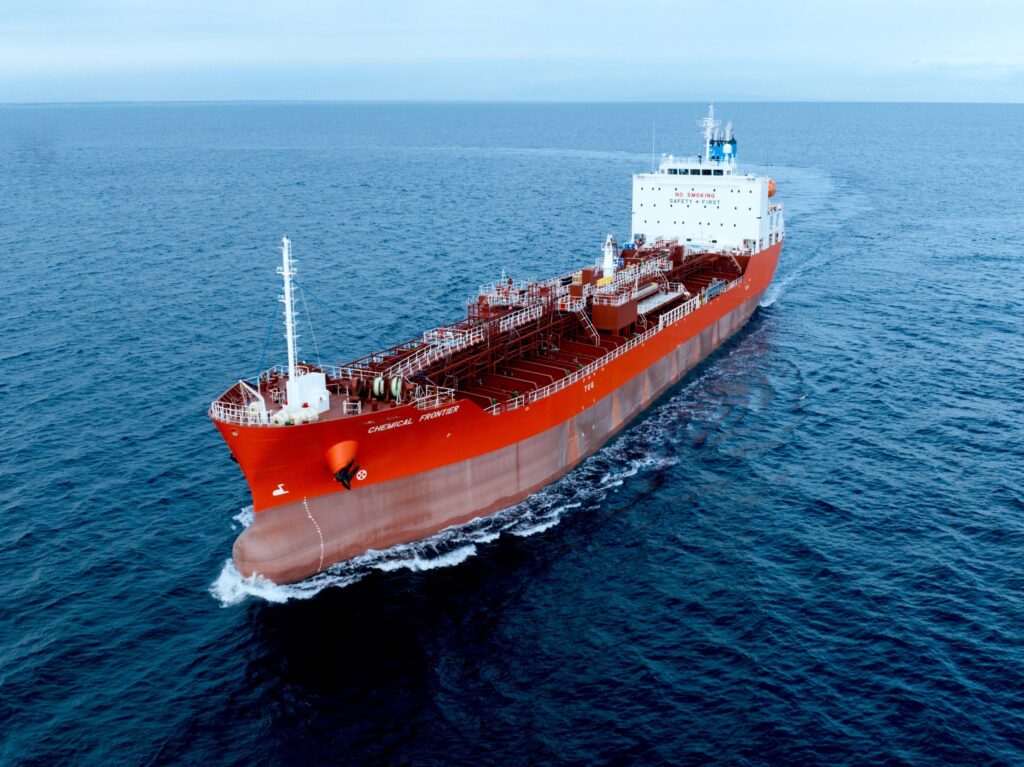 We will deliver the second ship in the series early next year, and we will work together as one to build even better vessel.